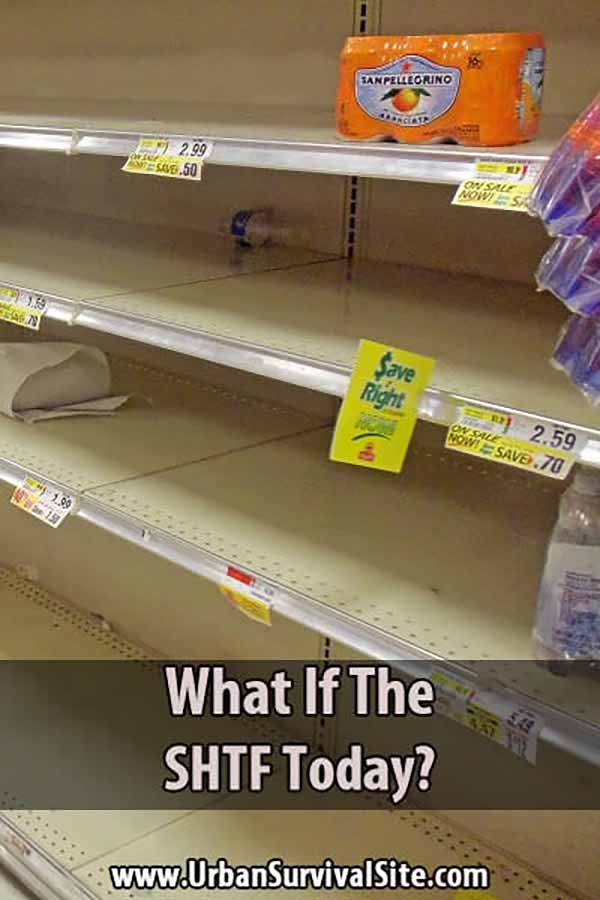 Imagine the shit has hit the fan, and you didn't bother to prepare. A pandemic is spreading across the country like a wildfire, or maybe an earthquake has knocked out the power and water. Perhaps there's been a terrorist attack and part of your town is in flames, or hyperinflation has hit a critical point where prices are rising throughout the day.
If something like this occurs or if you know it's about to occur and you aren't prepared, it may be worth the risk to run to the nearest grocery store and get what you can, while you can. Ideally, none of this will be necessary because you prepared ahead of time, but here's what to do if it is.
You won't be able to get everything you need to last for several months, but it might still be possible to get enough to ride out whatever disaster has occurred. Duck out of work early and keep your cell phone handy. Call your significant other and have him or her meet you at the most convenient gas station. On your way, call your doctor and ask to renew any prescriptions you might need.
Once you're at the gas station, fill up your cars and buy some containers you can fill with extra gas. You will also need to get some cash. Go to an ATM and withdraw as much as you can.
Now head to the grocery store. When you get there, each of you should grab a different cart and take half of the list below. Don't get into fights with other last-minute shoppers, it's not worth it. And if the store doesn't have something you're looking for, just forget about it and move on. Maybe the next store will have it (if there's time to go to another store). Finally, pick up your prescriptions and check out.
On the way home, pick the kids up from school. And lastly, prepare to hunker down until the crisis passes.
Here is the list:
Food/drink:
Water, as much of it as you can get.
Gatorade, get several bottles.
Rice, as many bags as you can.
Beans, at least 20 cans.
Dried beans, several bags.
Vegetables, at least 10 cans.
Tuna/chicken, at least 20 cans.
Soups that don't need water added.
Pasta, 20 bags or so.
Pasta sauce, at least 10 jars.
Mac & cheese, get several boxes.
Tomato paste, at least 20 cans.
Jam/jelly, 3 jars of your favorite.
Peanut butter, 5 jars or more.
Oatmeal, several bags/boxes.
Crackers, several boxes.
Cookies, don't go crazy though.
Mixed nuts, several containers.
Energy bars, protein drinks.
Trail mix with chocolate.
Coffee, tea.
Sugar, several bags.
Salt, one big box.
Powdered milk, several boxes.
Vegetable oil, at least 5 bottles.
White vinegar.
Spices, whatever you use frequently.
Potatoes, 2 big bags.
Onions, 1 bag.
Fresh fruit and veggies.
Frozen meat and pork.
3 loaves of bread.
Butter, 10 bars/tubs.
Cheese, 10 bricks
Non-food items:
Prescription refills.
N95 masks.
Disposable gloves.
Band-Aids, all sizes.
Tylenol / acetaminophen, 3 bottles.
Aspirin / Ibuprofen, 3 bottles.
Soap, shampoo & conditioner.
Toothpaste, mouthwash, and dental floss.
Tampons.
Vitamin C & multivitamins.
Omega-3, antioxidants.
Imodium A-D.
Rubbing alcohol.
Shaving cream and razors.
Laundry soap.
Unscented bleach.
Dish detergent.
Paper plates and plastic utensils.
Paper towels.
Toilet paper, 8 packages.
Kleenex, 5 boxes.
Garbage bags.
Water purification tablets.
Flashlights, at least 3.
Candles, several sizes.
Battery-operated radio.
Tools, rope, tape.
Matches, 2 boxes.
Lighters, 10.
Batteries, 10 packs.
Hand sanitizer.
Propane cooking stove.
Propane fuel, fire starters.
Ready-made first-aid kit.
Hopefully, you'll be able to get everything you need before your local grocery store shelves look like ones in the picture above. So there you have it.