This post may contain affiliate links. If you make a purchase, I'll earn a small fee at no extra cost to you.*
Lately I've been watching my diet a little more carefully. In anticipation of the tough times ahead, I want to be healthy and able to handle a lot of stress. One way I've been doing that is to lower my carbohydrates and increase my protein intake in order to lose weight and build muscle. But the problem with a lot of food storage products is they're high in sugar and carbs. Pasta, rice and dehydrated foods might last a long time, but it's not a great way to eat everyday. I've been buying canned chicken, tuna and beef jerky for a long time, but recently I found some other tasty options at Internet-Grocer.com. (Note: I'm not affiliated with this company and I don't get a commission if you buy from them. I just think their food is great.)
Canned Meat
This isn't some kind of imitation meat. This is real, all natural meat. It's not minced or mushy or "spammy." Each can is full of large, tasty chunks. You can get canned beef, hamburger, chicken, turkey, pork or bacon. I've had them all and they taste a lot better than I thought they would. They're great, in fact, and they last at least 5 years (though I'll bet you they would make it 10 to 20 years). One of my favorite things is to stir fry the beef and mix it with some spaghetti sauce, but it tastes great lots of different ways. 
.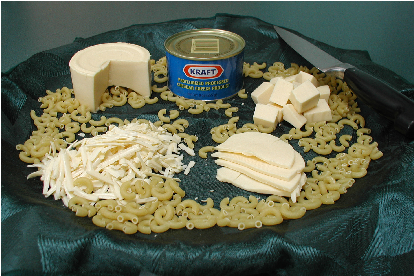 Canned Cheese
The great thing about this cheese is you can use it for almost anything. You can grate it, slice, cut it up into cubes or even melt and pour it onto broccoli, macaroni or tortilla chips. Although it's white, it tastes like a combination of cheddar and American cheese. Velveeta is probably the best comparison I can think of, only it's more solid than that. The manufacturer is confident it will last "indefinitely."
Canned Butter
I never knew there was such a thing as canned butter until I found Internet Grocer. This is some of the smoothest, creamiest butter I've ever eaten. Finding this was a big deal for me because so many of my storage food recipes require butter, and I knew that would be a problem if the power went out and my fridge stopped running.
So to sum up, I think if you want to have a healthy, well-rounded food supply, you should definitely look into some canned meat, cheese and butter. They have a lot of other foods I haven't tried yet. If you're interested, visit Internet-Grocer.com.