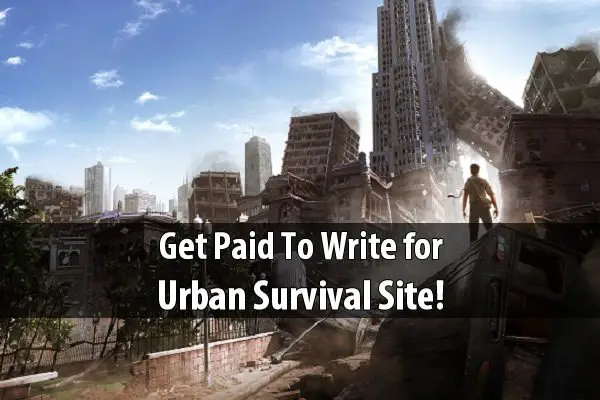 Do you know a lot about prepping and survival? Would you like to share your knowledge with tens of thousands of people and get paid at the same time? Now you can!
Urban Survival Site is now paying writers $40 for high-quality articles. If we really love your article, we'll pay you significantly more. All you have to do is use the form below to submit your article, and within a few days we will let you know whether we'd like to purchase it.
Note: I do not pay $ for guest posts that include backlinks to the author's website. In other words, my payment for the guest post is the backlink.
Article Submission Rules
Please read ALL of these rules before submitting an article!
I only accept non-fiction articles about: disaster survival, emergency preparedness, survival skills, etc. (Check out our categories page for more acceptable topics).
I do not accept fiction or any articles about: alternative medicine, bushcraft, farming, fishing, hunting, politics, or wilderness survival.
I also do not accept book reviews, product reviews, or anything that is overly promotional.
Articles cannot include affiliate links. Other links are allowed but only if they're relevant.
Articles must be at least 1000 words and no more than 3000 words.
List articles (like the many featured on this site) and how-to articles are preferred, but I will accept anything that is informative and enjoyable to read.
Your article must be accurate! Please do not describe or recommend methods that you have not done or at least seen done, and do not recommend products you have not used.
Articles must be your own original work that has not been published anywhere else. Do not submit an article that has already been submitted to another website.
If your article is plagiarized or "spun" from another article, it will be rejected. You may quote other works, but use quotation marks and include full attribution to the original author.
Keep in mind that I will also consider grammar, syntax, and spelling errors when deciding whether to purchase an article.
I reserve the write to edit any submissions before publication. The less I have to edit your article, the more likely I am to purchase it.
You may submit multiple articles, but quality is more important than quantity. No matter how many articles you submit, I won't pay for any of them if they aren't good.
You may submit one photo that you have taken yourself, but I cannot guarantee I will use the photo if I purchase your article.
If you need to submit multiple photos (like in a how-to article), indicate in the article where the photos will go by writing "photo 1", "photo 2", etc. If I decide to purchase your article, I'll have you email them to me. Again, they must be photos you have taken yourself.
If I decide to purchase your article, I will contact you via email. Once I pay you, the article will become property of Urban Survival Site.
I only make payments through Paypal. This makes it easier for me to keep track of expenses. If you don't have a Paypal account, visit paypal.com to sign up. It's easy and free.
If you have an idea for an article and want to run it by me before you start writing, feel free to send me a message about it.
Final Rule: Please understand that even if you adhere to all the rules above, I cannot guarantee I will purchase your article.
How To Submit An Article
Just fill out the form below to submit your article. Your entire article goes in the "Article" field. The email address you enter will be used to contact you if I decide to purchase your article, so make sure it is correct! If you have any questions feel free to contact me. Thanks!
– Alan